BlueFlag Services. We custom build iron and steel driveway gates. Cast iron gates and wrought gates are our speciality. A typical 10' driveway gate with Might Mule gate opener and installation in the Charlotte NC area is priced around $1999.00
That is BUILT and INSTALLED
Our gates are built to last.
Custom driveway gate welders and fabricators. Yep! right here in Charlotte NC. Do you Have an idea of what type of gate you want?
Great. We have the expertise to get your driveway gate built, installed and opening.
Iron gates, Grand iron gates. Our custom gates work.
..
Custom built driveway gates prices range from $899.00 to $2899.00 depending on the style and material you would like your gate to be made of.
Need a metal Driveway Gate?
Custom installation of your driveway gate.
Order by calling 704-245-0119 and within weeks you will have a custom driveway gate delivered to your home or business.
Iron Driveway Gates
4 line Iron Driveway Gate.
1 1/2" steel welded frame construction. 1/2" pickets, Semi-gloss black, welded steel ball bearing barrel hinges, 3" Posts included, Gate Stop included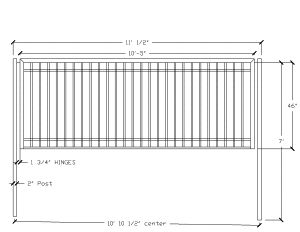 The Mighty Mule automatic gate opener allows you to open and close vehicular gates by remote control. The FM500 gate opener kit is designed for single swing gates up to 18 ft., or weighing up to 850 lbs. Includes a 12V, 7 amp/hr battery, AC transformer for charging battery, and one remote entry transmitter Gates that open away from the property will require a push-to-open bracket (FM148, not included) Transform this unit to a solar gate opener by using the solar panel charging kit (FM121 or FM123, not included) Mighty mule accessories allow you to customize your gate opener system with additional entry transmitters, digital keypad, and more MFG Model # : FM500 MFG Part # : FM500